Recognized as one of the
Best Law Firms in America
Recognized Nationally by the Industry as the
Best Rhode Island Personal Injury Lawyers
Recognition by other attorneys is considered the highest compliment in the legal field. We have been honored by Best Lawyers and Super Lawyers as the Best Law Firm and Lawyer of the Year in Providence and Rhode Island in the areas of medical malpractice, personal injury, product liability and appellate practice.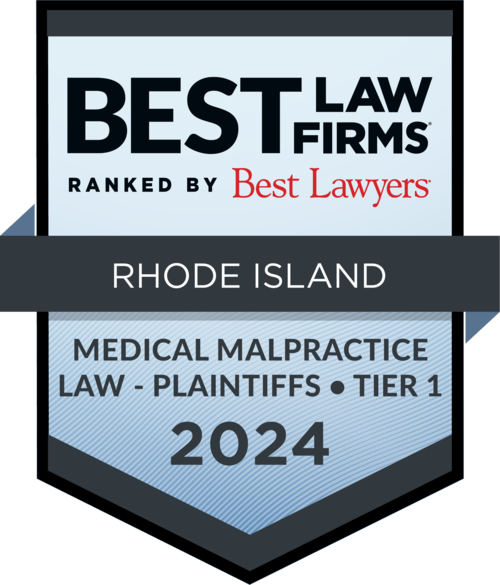 Recognized as the Best Injury Lawyers by Our Clients
As personal injury lawyers, we work with clients when they have been wronged. In order to make the situation right, we treat clients with respect and pursue the best result in each case. This has earned us a peerless reputation.
"I am a survivor of the Station Night Club Fire who was blessed to have Attorney Mark Mandell and his amazing partners in my corner. He fought so hard for what was right for all of his clients. I will forever be grateful for all he did and the friendship that grew from such a tragic event in my life."
- Gina M. Russo
"The ABSOLUTE BEST! My wife and I found Mark Mandell and Yvette Boisclair in a moment of crisis. I literally google'd "the best attorneys in Rhode Island" to find them. Google knows…they, and their incredible team, were "the best!" They established a relationship of trust and kept us involved throughout the legal process. They are motivated by truth and justice, and go above and beyond to seek it. From the personal customer service, professional response, incredible legal network, and ultimate positive resolution in our case…they were "the best."
- Ryan C.
"Would give 10 stars if I could! They were tenacious in dealing with the insurance companies, and yet kind and thoughtful when dealing with me. They were extraordinary."
- Dave M.
Recognized for Our Track Record
The best outcomes don't just fairly compensate the client – they also change the law for the better. Our team has achieved more million-dollar and multi-million-dollar verdicts, as well as more landmark decisions, than any other law firm in Rhode Island.
$176,106,236.18
Station Nightclub fire resulting in 100 deaths...
$52,500,000
Catastrophic injuries from a fall during a...
$31,500,000
Medical Negligence/Failure to Diagnose...
$21,270,455
Negligent Service of Alcohol to a Minor by a...
$18,100,000
Negligent Over-Service of liquor and allowing a...
$15,500,000
Obstetrical Negligence Delayed delivery leading...
$15,349,000
Surgical negligence involving preoperative,...
$15,246,000
Negligent Bartender and Restaurant in service of...
$15,000,000
Product liability and defective product...
$10,000,000
Birth trauma vs Navy Obstetrician/U.S. Government...
$6,500,000
Cardiac and neurological injuries Failure to...
$6,500,000
Negligent treatment of...
$6,000,000
Product Liability Drug vs. Manufacturer (1995)...
$6,000,000
Surgical Medical Negligence- Negligence in the...
$5,500,000
Birth trauma vs. Obstetrician / Medical Office...
Meet Our Dedicated Legal Team
Personal Injury Practice Areas
Our personal injury attorneys have been recognized by Best Lawyers® and other peer organizations as top litigators in multiple areas of injury law. Clients trust us to apply our legal and medical expertise to their case and help them get the compensation they deserve. Learn how we can help:
Our No Fee Promise
Our law firm has an unmatched record of results gives us the experience and confidence to absorb the upfront cost of your claim. You don't pay us a fee unless we secure a favorable recovery in your case. Get started today:
Call Us
Call (401) 273-8330 to speak with a member of our legal team. We are available 24/7 to discuss your case.
Fill Out Our Form
The form is 100% secure and your information is never shared with outside parties.
Reach Out on Social
Visit one of our social media pages to "Like" us, "Follow" us, get the latest updates, and more.
About Our Personal Injury Law Firm
The personal injury lawyers at Mandell, Boisclair & Mandell, Ltd have earned more $1 million and $10 million verdicts than any other law firm in Rhode Island. We treat each client with respect, enabling us to provide the best legal service while pursuing the best result.
Whether you were hurt in a car accident, harmed by medical malpractice, or lost a family member due to someone else's negligence, you can trust our injury law firm to listen with an empathetic ear, provide caring guidance, and leave no stone unturned to recover the full value of your damages.
Compassionate, Strong, & Knowledgeable
Why Choose Our Personal Injury Law Firm?
We have more than a century of combined legal experience among our attorneys
We have tried cases that changed the law and reformed major institutions
We have more awards and recognition from our peers than any other firm in Rhode Island
We are involved in the community as proud sponsors and participants in many charities and events
The trial attorneys at Mandell, Boisclair & Mandell, Ltd care about achieving justice in your case and making our community and society a safer place. Please call (401) 273-8330 or contact us online for a free case evaluation. We serve clients throughout Rhode Island.
Injury Attorneys Serving All of Rhode Island
Located in the capital city of Providence, our personal injury law firm serves clients throughout the state. If you have suffered a catastrophic injury that makes mobility difficult, our team will travel to your home, your hospital room, or another convenient location to discuss your case.
Million Dollar Verdicts
Multi-Million Dollar Verdicts
Landmark Decisions